Some people, ask me this question? Why would I want to learn more about knowing the rules that apply to mortgage advertisements? Are there real jobs out there that are looking for people who have learned how to do this type of work?
The answer is yes.  We came across just this sort of advertising compliance job earlier this week. Here's the posting for the "Advertising Compliance Specialist " job: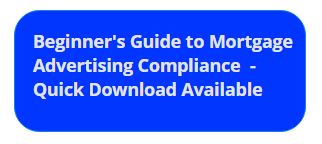 [Blank Mortgage Company, (we changed the name to protect the company), a full-service National Mortgage Lender founded in 2003, has an excellent opportunity for an experienced professional who demonstrates diligence and collaboration to fill the role of Advertising Compliance Specialist. With the ever-changing mortgage industry, [Blank Mortgage Company] is looking to add a detail oriented and analytical Advertising Compliance Specialist to complement our strong compliance team. We are growing at an exponential rate and are looking for an experienced team player to help build and evolve our business to the next level.
[Blank Mortgage Company] is a privately held mortgage lender / servicer and …  We have cultivated a positive and energetic team environment where there is ample opportunity to learn, develop, and grow within the company and further your career aspirations.
Job Summary: 
We're looking for an organized, articulate advertising, marketing, or compliance professional to assist the Compliance Department and the Marketing Team with ongoing review and approval of marketing communications and materials. This position will act as an informational resource and facilitator of assets through the Creative Approval Process.
Responsibilities: 
Review and approve all marketing materials, including advertisements, sales literature, websites, business cards, correspondence, etc.
Collaborate with Legal, Compliance, and Marketing as it relates to communications.
Draft and update disclosures for marketing materials.
Research to ensure materials are compliant with applicable laws and regulations.
Assist in answering compliance-related inquiries.
The Ideal Candidate: 
1+ year compliance or marketing/advertising experience required.
Basic knowledge of the financial services industry, including regulations related to loan marketing and advertising preferred.
Bachelor's Degree in Marketing, Communications, or similar.
Strong organizational and research skills.
Outstanding attention to detail.
Knowledge of marketing principles and strategies.
Ability to work independently and excel in a high intensity environment.
Ability to handle multiple tasks and effectively complete a variety projects in a timely manner.
Exceptional interpersonal, verbal, and written communication abilities, including the ability to communicate effectively and professionally with all levels and areas of the organization.
Proficiency with Microsoft Word, Excel, PowerPoint and Outlook.
With this position, [Blank Mortgage Company] offers a full-time schedule coupled with a competitive salary and benefits package, making this a highly sought-after position.
[Blank Mortgage Company]
===================================================
Did you see that last line, this is a "highly sought-after position". Need more training to get ready for this type of job? Consider our Beginner's Course or our more detailed Five Week Training Course.